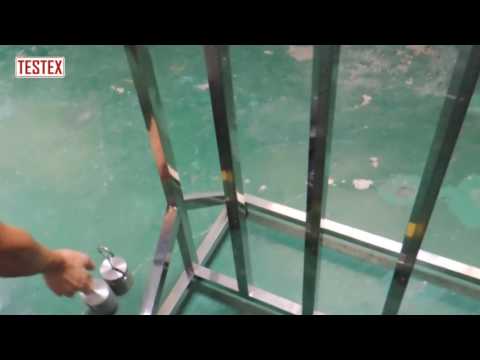 TESTEX

Woven Fabric Stretch Recovery Tester TF154

Woven Fabric Stretch Recovery Tester, to determine the stretch properties of fabrics woven from stretch yarns under a specified tension and extension. Besides, it complies with ASTM D3107. TESTEX is a well-known Woven Fabric Stretch Recovery Tester manufacturer in the industry and currently sells its products to more than 60 countries and regions worldwide.

Request a Quote Download Brochure
Description
Application
Woven Fabric Stretch Recovery Tester, is designed to determine the stretch properties of fabrics. The fabrics belong to those that are woven from stretch yarns under a specified tension and extension. This instrument enjoys a wide application in the fabric and textile industry as it can help improve stretch performance. Besides, it owns 6 test positions, ensuring high working efficiency. Moreover, the tester consists of stainless steel, preventing the parts from getting rust. In the testing, clamp the end of one specimen in the top clamp of the stretch. And then make it subject to the specified tension. Finally, we can make an assessment of the stretch performance.
Test Principle
Fabric Growth after Stretching to a Specified Extension—Bench marks of a known distance are made on a fabric specimen. Then, hold the specimen, paired with one used in the fabric stretch test at a specified extension for a prescribed period of time.  Meanwhile, remove the tension from the specimen. Next, measure the distance between the benchmarks after allowing the specimen to relax for various time intervals. In the end, calculate the fabric growth at each time interval from the distance between the bench marks of the specimen prior to stretching and the length after each relaxation period at zero tension.
What is a Woven Fabric Stretch Recovery Tester?
Woven Fabric Stretch Recovery Tester covers the determination of the amount of fabric stretch, fabric growth, and fabric recovery of fabrics woven in whole or in part from stretch yarns after a specified tension and extension.
It is for use with woven fabrics exhibiting high stretch (greater than 12 percent) and good recovery properties from the low tension of fabric width. When making an agreement, this test method is also suitable for fabrics woven in whole or in part from non-stretch yarns that exhibit limits within the stretch characteristics mentioned above.
Test Standards