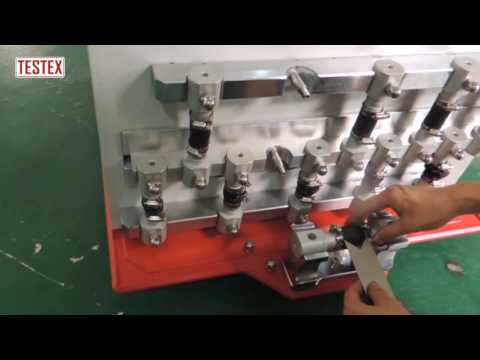 TESTEX

Schildknecht Flexing Tester TF117B

The Schildknecht Flexing Tester is a reliable and precise instrument for evaluating the resistance of coated fabrics to damage caused by flexing due to oscillation at a rate of 500 times per minute. It is capable of accommodating up to 10 specimens at a time, and comes equipped with a convenient resettable electronic counter to record the number of cycles.

When testing the Compression-folding (Schildknecht) flex cracking resistance of medical protective clothing, passing this test is a critical step before proceeding to the next test with the Hydrostatic Head Tester, which assesses the material's water penetration under pressure. By passing both tests, you can be confident that the protective clothing meets the required standards for quality and durability.

Request a Quote Download Brochure
Description
The Schildknecht flexing method is a reliable means of assessing the resistance of coated fabrics to repeated flexing. To perform the test, a rectangular strip of coated fabric is mounted between two opposing cylinders, creating a cylindrical shape. One of the cylinders moves back and forth along its axis, compressing and relaxing the fabric alternately. The specimen is flexed for a specified number of cycles or until it fails.
Test procedure
Cut six specimens (105mm*50mm) from the coated fabric according to ISO 1420, and condition the specimens according to ISO 2231.
Fix the specimen on the apparatus, and start the apparatus. After a specified number of cycles, or after a break in the coated fabric, stop the instrument and examine the specimen.
Analysis of flexing damage
Assess the overall appearance, taking into account all visible factors such as wrinkling, cracking, flaking, and discoloration. Compare the flexed test pieces with the unflexed material and grade the flexed material according to the following four scoring levels. For the unbent material, observe the damage to the appearance of the specimen directly with the naked eye.
0 None
1 Slight
2 Moderate
3 Severe
Also, if there is flexing damage (cracking and delamination, etc.), please indicate the type and extent of the damage.