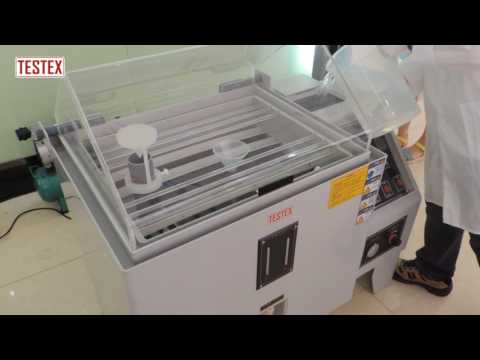 TESTEX

Salt Spray Tester TU380

The Salt Spray Tester is a crucial tool for evaluating the resistance of various materials to erosion after undergoing rust-proofing treatments such as painting, coating, electroplating, anodizing, and greasing. Given its indispensable role, it has become widely adopted across multiple industries. Our Nozzles Fog Salt Spray Tester strictly adheres to standards such as ASTM B117 and GB/T 2423.17, making it a reliable choice for conducting salt spray tests. Furthermore, our Salt Spray Test Machine represents one of our top-tier products in this field.

Request a Quote Download Brochure
Description
Automatic timing device, when the set temperature of the test chamber reaches, the system will spray. When the set time is reached, the spraying will stop automatically.
The spray nozzle is made of tempered glass, which can adjust the spray volume and spray angle. The spraying method is tower spraying, with natural settling and uniform distribution.
Direct heating method, fast heating, reduces the standby time, when the temperature reaches, automatically switch to constant temperature state, the temperature is accurate, less power consumption. Pure titanium heating tube, acid, and alkali corrosion resistance, long service life.
Digital display controller, full digital circuit design, accurate temperature control, long service life, complete test function.
Safety protection device, the test instrument uses a variety of safety protection devices to prevent water shortage or high-temperature damage to the instrument.
Application of 
Salt spray machines are also known as salt spray cabinets, salt spray chambers, and salt spray test machines. Salt Spray Tester Chamber provides a high salt spray environment to measure the corrosion resistance of many materials, such as paints, coatings, steel, and so on over a set period of time. In addition, the salt spray machine is used to spray Sodium chloride solution on the electrophoretic coating surface, in order to carry out the corrosion testing. Compared to the natural environment, the salt spray tester offers a much higher corrosion rate and a much shorter salt spray test time.
Besides, this Salt Spray(Fog) Apparatus is intuitive to use and suitable for varied testing labs. Accordingly, there are many companies trying to manufacture such salt spray chambers. ATI also applies this salt spray cabinet to test the quality of our equipment with high quality and stable operation like the TF416A perspiration tester.
What is the Salt Spray Test?
The salt spray corrosion test consists of two types. One is natural exposure and the other is machine simulation. Salt spray tests mainly use salt spray equipment to simulate the manufacture of a salt spray environment. Besides, the more time it takes to corrode the material, the more potent corrosion of the sample has. When the test finishes, we can get an accurate result. The main factors influencing the results of the salt spray test include the temperature and humidity of the salt spray test, the concentration of the salt solution, the angle of sample placement, the pH value of the salt solution, the amount of salt spray deposition, and the way of spray, etc.
The artificial simulation salt spray test is a kind of salt spray chamber with a certain volume space and in the space of the salt spray test chamber, we use the artificial method to test the product's salt spray corrosion resistance in accordance with the salt spray test standard.
Test Standards