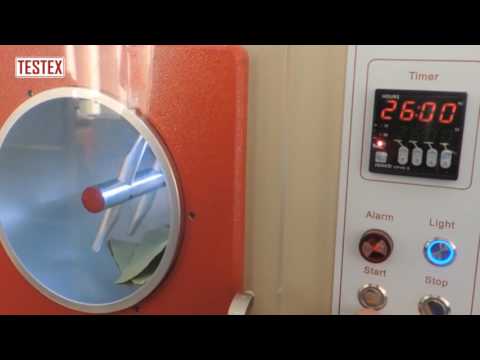 TESTEX

Random Tumble Pilling Tester TF224

The Random Tumble Pilling Tester TF224 is a specialized piece of equipment used to evaluate the pilling resistance of fabrics. It works by subjecting the fabric specimen to a randomized tumbling motion with the aid of a unique rotating drum, which simulates the wear and tear the fabric may experience during regular use.

The tester comes with several standard test methods such as ISO12945-2, ASTM D4970, and others, which allows for standardized testing and comparison of results. During testing, the fabric sample is loaded into the drum along with a set of standard abrasives, and then subjected to a specified number of rotations. After the test is completed, the specimen is evaluated for the degree of pilling using a rating scale, which provides a quantitative measurement of the fabric's pilling resistance.

The Random Tumble Pilling Tester TF224 is an essential tool for textile manufacturers and product designers who need to ensure that their products meet the necessary quality and performance standards. With its advanced technology and precise controls, this tester offers reliable and repeatable results, making it an indispensable tool for anyone involved in the production or testing of fabrics.

Request a Quote Download Brochure
Description
The Random Tumble Pilling Tester features state-of-the-art stainless steel impellers that rotate within individually-lit aluminum chambers. The impellers generate a randomized tumbling motion that causes test fabrics to come into contact with cork liners for a specified duration, controlled by a timer and audible alarm. This advanced design ensures that the test conditions are precise and consistent, leading to accurate and reliable results.
The use of high-quality materials, such as stainless steel and aluminum, enhances the durability and longevity of the tester. Moreover, the individually-lit aluminum chambers allow for easy observation of the test process, enabling operators to monitor the fabrics for any signs of damage or wear.
Overall, the Random Tumble Pilling Tester is a vital tool for textile manufacturers and product designers who need to evaluate the pilling resistance of their fabrics accurately. Its advanced features and precise controls ensure that the testing conditions are standardized, leading to dependable results that can be used to improve the quality and performance of textile products.
Compressed air is also injected into the chamber to assist in the tumbling action. With 2 or 4 pilling test chambers. Laboratory standard compressed air supply is required.
Specifications:
Size of Testing cylinder: Dia145mm
Rotation speed: 1200r/min
Test Standards
ASTM D3512
JIS L1076
DIN 53867
Consumables
0604001 Pack (50) Cork Liner
604003 Pack (1m) Grey Cotton Sliver