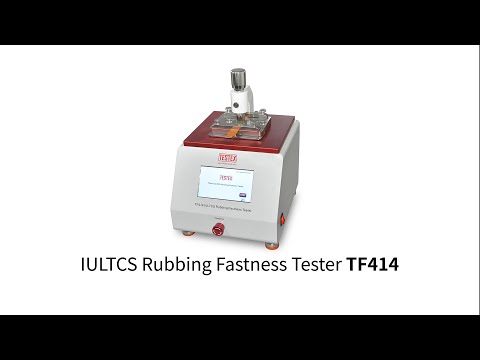 TESTEX

IULTCS Rubbing Fastness Tester TF414

The IULTCS Rubbing Fastness Tester TF414 is a testing instrument commonly used in the leather industry to determine the rubbing fastness of leather and other materials. Rubbing fastness refers to a material's ability to resist color transfer or fading when it is subjected to rubbing or friction.

Request a Quote Download Brochure
Description
Application
The IULTCS Rubbing Fastness Tester is the ultimate solution for conducting rub fastness tests on leather surfaces. This state-of-the-art tester determines the extent of marring on the surface of leather or finish, as well as evaluates the degree of color transfer from the sample to the rubbing pad under both dry and wet conditions.
What sets the IULTCS Rubbing Fastness Tester apart is its unique design, which guarantees accurate and dependable results. The tester boasts an impact appearance and construction design that not only looks great but also makes for convenient operation, ensuring a long lifespan without the need for repairs.
Additionally, the IULTCS Rubbing Fastness Tester comes equipped with a 500g loading weight, enabling tests to be conducted with either 500g or 1000g loading. An extension device is also included, allowing for samples to be extended at a desired rate. The tester is available in both single and double test position models, providing flexibility to suit your specific needs.
Test Standards
ISO 11640
ISO 17700 Method A
QB/T 2537