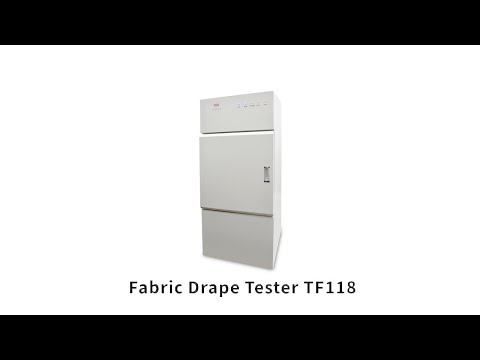 TESTEX

Fabric Drape Tester TF118

Fabric Drape Tester is designed to measure and calculate the coefficient of the drape by tracing a shadow of the draped fabric on paper. Besides, the Fabric Drape Tester complies with ISO 9073-9, GB/T 23329, etc. If you are looking for a tester to measure the co-efficiency of the fabric drape, this fabric drape machine will be your good choice as we have a long history of over 10 years.

Request a Quote
Description
Application
Fabric Drape Tester, to measure and calculate the co-efficiency of the fabric drape using image processing technology. It can test the drape property of all kinds of fabrics, such as cotton, denim, and linen.
The fabric drape tester is equipped with a CCD imaging system capable of handling, dynamic and static images. In addition, it can count, analyze, store and output graphs and data from the test process. Moreover, the instrument can test without changing the background color when there are specimens of different colors. Besides, when testing, there are some notes. This instrument requires a customized PC. The fabric drape tester should be exposed to general light and natural light rather than direct sunlight and strong light. When testing, we should put down the instrument cover to avoid affecting the testing accuracy.
Drape Test Principle
Place the circular specimen in the circular supporting disk first. Then irradiate the sample with a parallel light perpendicular to the horizontal plane, and obtain the projection diagram of the sample. In the end, calculate the percentage of the projection area to the original area by using the image processing method.
Test Standards
GB/T 23329 method B
ISO 9073-9 method B