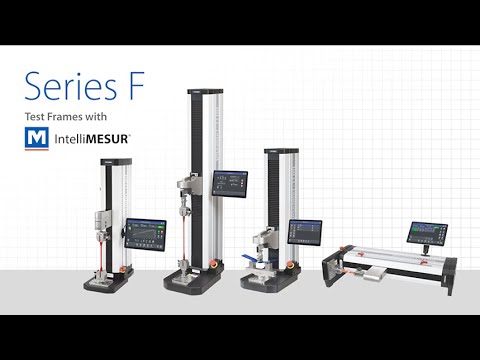 Mark-10

F-SERIES F505

Advanced force tester designed for tension and compression force testing applications, with force capacities up to 500 lbF (2.2 kN). Available for horizontal testing with the F505H.

Request a Quote Download Brochure
Description
This family of force testers is designed for tension and compression force testing applications, with force capacities up to 500 lbF (2.2 kN). Select from vertical or horizontal orientations, along with a broad range of force sensor capacities and an expansive array of grips and fixtures.
Set up tests, record data, and analyze data via IntelliMESUR® software. From basic tests to multi-step sequencing, IntelliMESUR® is fully integrated with Series F systems. Select from a pre-configured tablet control panel or standalone software for your own Windows device.
Features:
Rigid and precise by design
Conveniently modular
External limit switches
Seamless force sensor interface
Easy-to-service electronics
IntelliMESUR
IntelliMESUR® software is an integrated solution running on Windows tablets and PCs. Select a pre-loaded 10.1" tablet with mounting bracket or use your own Windows device. With IntelliMESUR®, you can create and run a wide range of basic and multi-step tests, including:
Limit testing to a load, break, or distance
Height measurement
Load holding
Cycle testing
Multi-step testing, utilizing any combination of the above functions
Run individual runs or batches, and view data in graphical format or results tables. Save or export data as needed, or generate a report.