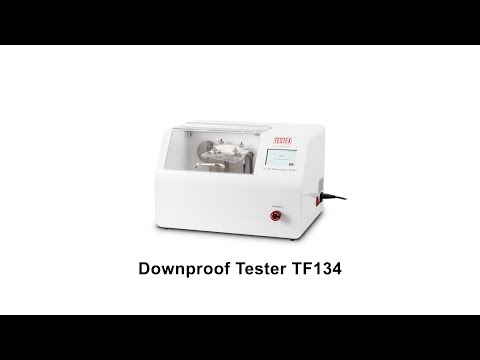 TESTEX

Downproof Tester TF134

Downproof Tester TF134, to determine the down-proof capability of fabric used for downgraded, quilts, etc, which are full of down, feather, and fibers. The down-proof tester evaluates the overall down-proof performance of garments by testing the number of down, feathers, and filaments that burrow or fall out of samples such as down jackets and quilts.

Downproof Tester TF134 complies with EN 12132-1, GB/T 12705.1, etc.

Request a Quote Download Brochure
Description
Application of Downproof Tester TF134
What does the fabric down-proof mean?
Fabric down-proof means the performance of textiles (mainly down jackets and quilts) that prevent down or feathers from burrowing through the yarn seams. The fabric wrapped in down must have down-proof or anti-drilling properties.
Down is a snowflake-like object with a soft down core that will not drill out at will when wrapped in a fabric of standard density. The most likely cause of the down jacket drill down is the external wrapping of the fabric density being too low, or seam processing improperly caused by the down leakage.
About the down-proof tester, there are two most common types, one can be used for friction testing and the other for impact testing.  Also Known as Tumble Method testing.
Test Method of TF134:Take an agreed-size specimen from the fabric to be tested to sew a pocket at the specified size, fill it with a certain weight of down, feathers, or a mixture of both, then sew the fabric up to be a testing bag. Clamp both sides of the bag in the holder. After the test determines the down-proof ability of the fabric by calculating the number of down and feathers through the fabric.
Features of Downproof Tester TF134
The number of friction and running speeds can be set digitally, with accurate counting. Industrial color touch screen display and control, friendly human-machine interface, easy to use, more convenient operation.
Adopt a DC servo motor, smooth running, and low noise.
Equipped with an organic glass shield, you can clearly see the testing process while ensuring safety.
Simple and beautiful modeling, small in size, space-saving, and more convenient to use.
Sold to 42 countries around the world, reliable quality, reputation testimony.
Test Standards