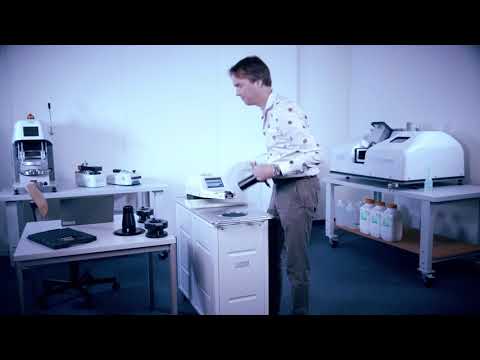 TEXTEST

Air Permeability Tester Model FX 3300-IV

Measures the air permeability of all kinds of flat materials as well as foam cubes. Our most successful instrument.

Request a Quote Download Brochure
Description
Special Features
Wide measuring range of 1-10,000 l/m²/s at 20 cm² test area (0.1-1,300 ft³/ft²/min at 38 cm²).
Wide test pressure range of 20-2,000 Pa
For filter media: Determination of the pressure drop at a given air velocity.
Optional FX 3300-PNA Pneumatic Clamping Assembly for test samples with a high percentage of side air.
Automatic control of the test pressure.
Fast and simple sample clamping.
Touch screen display for digital and graphic display of the test result.
Quiet and mobile instrument, perfectly suitable for use in the laboratory and in the production area.
Automatic cleaning function of the orifice provides for stable test results.
Data ports: RS 232 and USB. Ethernet and optional WLAN for direct network access.
Optional integrated software for evaluation and storage of the test results in XML format.
Optional integrated strip printer for printing of a test report.
Can be connected to a PC with the Evaluation Program L 5110 LABODATA III.
Works in accordance with all major test standards.
Calibratable.
Test Standards
AFNOR G07-111
ASTM D 737
ASTM D 3'574
BS 5'636
EDANA 140.1
DIN 53'887
EDANA 140.1
EN ISO 7'231
EN ISO 9'237
EN 14683, Annex C
JIS L 1'096-A
TAPPI T 251
WSP 70.1
Consumables
FX3300-IV-100 Test Head 100cm
FX3300-IV-20 Test Head 20cm
FX3300-IV-25 Test Head 25cm
FX3300-IV-38 Test Head 38cm
FX3300-IV-5 Test Head 5cm