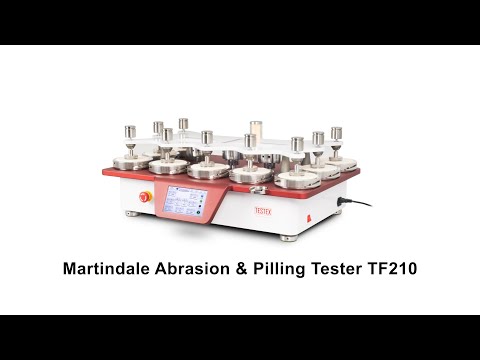 TESTEX

Martindale Abrasion & Pilling Tester TF210

The Martindale Abrasion & Pilling Tester is a versatile tool used to evaluate the durability of various textile structures. By subjecting samples to low-pressure rubbing against known abrasives in multiple directions, it allows precise measurement of their resistance to abrasion and pilling. Results can be easily compared against established standards to assess the overall quality of the materials tested.

Request a Quote Download Brochure
Description
Martindale Test Meaning
The Martindale Abrasion Test is a standard system used to evaluate the abrasion characteristics of textile products. This test is crucial in determining the quality of the fabric as it directly affects the durability of the product and its overall effectiveness. Abrasion resistance refers to the fabric's ability to withstand wear and tear from repeated friction with other materials. To perform this test, a machine called the Martindale Abrasion Tester is used.
Application of Martindale Abrasion&Pilling Tester TF210
The Martindale Abrasion Resistance Tester is an essential tool used to evaluate the durability of various materials such as knitted fabrics, woolen fabrics, artificial leather, synthetic leather, and more under pressure. This testing equipment is widely used in the textile, footwear, and garment industries.
Our Martindale Abrasion and Pilling Test Machine boasts a unique design that allows for easy inspection of individual sample holders without the need to lift the top motion plate. Additionally, it features individual counters and parking functions, an interval time that's settable, and a large touch-screen display for convenience and efficiency.
This abrasion testing equipment is available in 4, 6, or 9 test positions and comes equipped with standard sample holders and 9kpa and 12kpa weights, making it a comprehensive and reliable tool for assessing the quality and durability of various materials.
Features of Martindale Abrasion & Pilling Tester TF210
1. More accurate testing
Dynamic operation of the grinding table and upper grinding head can be controlled within 0.05, and the flexibility of the rotating axis is strictly calibrated.
2. Higher testing efficiency
Equipped with two sets of grinding heads, Martindale Abrasion Tester TF210 can do pilling tests and abrasion resistance tests at the same time.
3. 3 speeds, 3 workstations
Three operating speeds and three test stations to choose from. Different test speeds can be set – slow (24rpm), normal (47.5rpm), and fast (75rpm). 9 test stations are available for the larger base and 4 or 6 for the smaller base. Martindale Abrasion Tester TF210 is very flexible.
4. Applicable for 17 international test standards
Martindale Abrasion & Pilling Tester TF210 Can be applied to ISO 12945-2-2020; ISO12947-1-1998, GB/T 21196.1-2007; GB/T 4802.2-2008; BS EN 530-2010; ASTM D4970/4970M-2016e3; ASTM D 4966-12; SATRATM31A/ B; PUMA; BS EN 16094-2012 and 17 other international standards.
5. Test results are consistent with international third-party laboratories
All the test data are comparable to the test results obtained by internationally renowned third-party laboratories.
 6. More stable operation
Adopt servo motor control to improve the stability of machine operation and reduce machine noise. Choosing Martindale Abrasion Tester TF210 means choosing reliable rub testing results.
Test Standards
Medical Masks and Protective Clothing: EN14325, EN 14126 – 2003
EN ISO 12945-2/12947-1/12947-2/12947-3/12947-4, ISO 20344, ASTM 4966/4970, BS EN 388/530, BS 3424/5690, JIS L1096, DIN 53863/53865, GB/T 13775, SATRA TM31, IS 12673, IWSTM 112/196, IWTO 40-88, SFS 4328, NEXT 16, GMW15651, ISO 5470-2, M&S 17 / 19 / 19C, Next 18/18a/18b, GB/T 4802.2/21196-1/21196-2, Wool Mark TM 112/196
Consumables
2016 (5m) Abrasive Cloth
2014 Pack Abrasive Cloth Per Meter
2027 Wool Abradant (discs 165mm)(100 pack)
54615 Pack (25) Trizact Circle
PL31B Pack (50) Klingspor Grit sheets
2017 Pack (24) Non-wovens Felt Pads (90mm diameter)
2018 Pack (24) Non-woven felt pads (140mm Diameter)
2010 Pack (24) Woven Felt Pads (90mm Diameter)
2011 Pack (24) Woven Felt Pads (140mm Diameter)