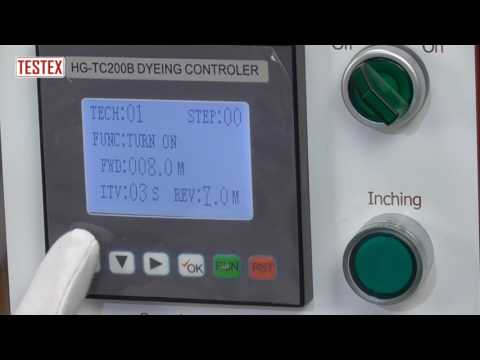 TESTEX

IR Lab Dyeing Machine TD130

The Lab Dyeing Machine is an essential tool for fabric testing labs and manufacturers who need to make quick dyeing samples without breaking the bank. This efficient sample dyeing machine helps minimize the risk of unexpected results during the mass dyeing process. Unlike traditional fiber dyeing machines, our Lab Dyeing Machine uses circular rotation to move beakers and features advanced infrared heating technology that eliminates glycol contamination and the need for laborious beaker cleaning. With this cutting-edge lab equipment, you can expect accurate and reliable results every time.

Request a Quote Download Brochure
Description
To achieve precise dyeing results, it is necessary to add an assistant to the beaker once the temperature reaches 80 degrees. However, most IR dyeing machine systems add liquid too quickly using an injector. The TD130 Dyeing Lab Equipment, on the other hand, is designed to add liquid slowly into the auxiliary beaker located on top of the cap. This slow addition of the liquid into the main beaker is facilitated through a small hole in the cap. By simulating the actual dyeing process, where the pump adds the assistant slowly, the Chemical Adding Kits are available upon request. This equipment ensures accurate and consistent dyeing results.
Features:
Three-dimensional turning, clockwise and anti-clockwise running makes level dyeing results.
Beakers are made of quality SUS316 stainless steel, heating fast and level, specially pressure-tested beakers offer maximum safety for atmospheric and high-temperature dyeing.
Infrared heating continuously (non-off-type) by durable life infrared heaters which 360-degree ring-shape, direct heating of steel cup, to let dyeing equably and saving 50% electricity.
The programmable computer system controls the dyeing system's process, can save up to 99 kinds of process, LCD displays temperature, time, process No. and temperature curve, imported high-precision PT-100 temperature probe monitoring the actual temperature of dyeing liquor directly, to let heating and cooling automatically.
Specifications:
Temperature range: 30-140 °C
Heating or cooling speed: 0.5 – 3.0 °C / min
Temp. Control accuracy: 1 °C
Rotation speed: 0 – 30 rpm (adjustable)
Dyeing Beaker : 24 pots / 300ml
Liquor Ratio : 1:5 ~ 1:100